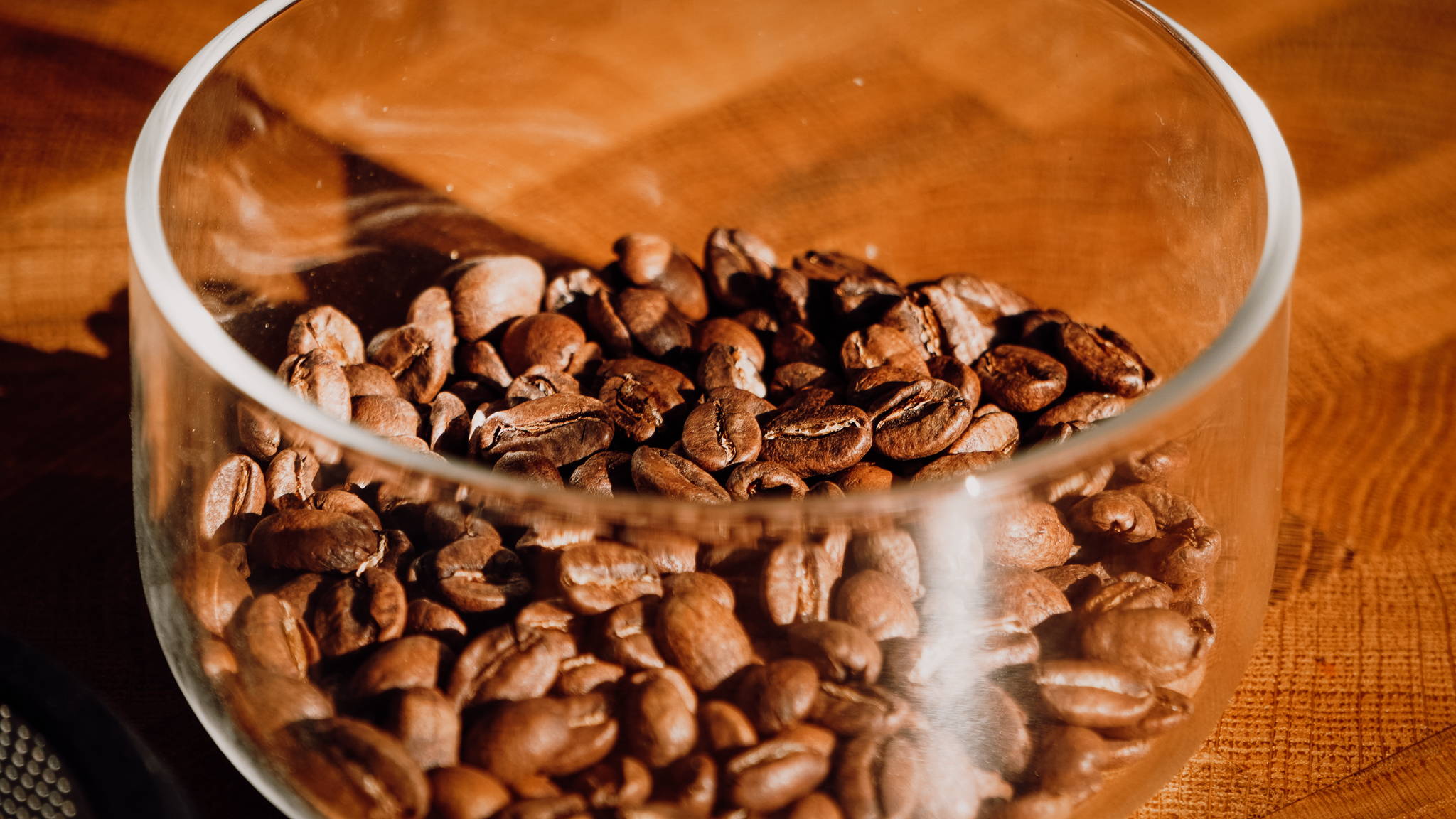 So you've treated yourself to an expensive bag of speciality coffee beans and they are tasting AMAZING… Now you want to discover how to preserve their freshly roasted taste notes for as long as possible!
Should you keep them in the bag they came in? Will a dedicated container make a difference? Is your storage method really that important? What if your coffee is already stale?
We'll answer all these questions below!
WHY SHOULD I CARE ABOUT STORAGE?
If you've just splashed out €20 on a bag of coffee beans that you can't get enough of, it only makes sense to preserve their tastiness for as long as possible, right?
We all know that beer can taste completely different depending on whether you drink it from a can, bottle or pint glass in a bar (💔).
In the same way, the taste of your coffee can also change depending on whether it's kept in a paper bag, your hopper or a vacuum sealed storage container.
BUT… WHY?
It all boils down to the science behind coffee!
When roasting your beans, coffee roasters carefully monitor a large number of variables to make sure your coffee contains the delicious taste notes you'll find on your bag. These variables include moisture content, oxygen levels & temperature (to name a few) and are massively important in determining how your coffee extracts when brewed and how it tastes in your cup.
The
National Coffee Association
describes air, moisture, heat, and light as being "your beans' greatest enemies". Why? By allowing an excess of heat, moisture, air or light to reach your coffees, you're essentially un-doing much of the hard work the roasters put into creating your coffee as they intended it to be enjoyed.
Potentially the biggest baddest enemy your coffee faces is oxidation, which is when there is a gain of oxygen to a compound. In terms of coffee, oxidation is when air causes your coffee to go stale and lose its flavour.
In the same way that bread goes stale when it's not wrapped up properly, so too does coffee when it's stored improperly. We'll give you our tips and tricks for avoiding this below!


COFFEE STORAGE TIPS & TRICKS
Now you know how easy it is for your coffee to go stale, but what can you actually do about it?
#1 Store your coffee wholebean (not preground!)


This is definitely one of the biggest game changers in ensuring your coffee maintains its freshness and tastes amazing.
When you grind your coffee, you increase its surface area exponentially (check out
Barista Hustle's blog
for an excellent visualisation of how this affects your coffee).
By doing so, you're allowing far more opportunities for oxidation to impact your coffee from the second you grind it, which means it loses its freshness - and many of its taste notes! - almost immediately.
#2 Use an airtight storage container
One of the most foolproof ways of guaranteeing your coffee retains as much freshness as possible is to store it in a dedicated container. We personally recommend using a vacuum sealed canister - these containers are air-tight, prevent oxidation and can extend your coffee's shelf life by 50%.
Our personal favourite is the Fellow Atmos Canister which features an airtight silicone seal that stops air, moisture, and odours from reaching your coffee. Its main advantage over other vacuum canisters is the integrated pump - you just twist the lid back and forth to remove air from the inside, without the need to use any additional pumps.


#3 STORE YOUR COFFEE IN A DARK ENVIRONMENT
To avoid light from affecting your coffee, you should try to store it in a dark cupboard or shelf away from large windows or places that get strong levels of sunlight during the day.
#4 STORE YOUR COFFEE IN A COOL AREA
In order to prevent heat from impacting your cofee's freshness, avoid storing it in areas close to your oven or radiators if you can.
#5 RESEAL YOUR BAGS OF COFFEE
This might seem obvious, but if your coffee comes with a resealable bag then make sure to close it properly! Keeping your bags of coffee fully closed prevents excessive amounts of oxygen from interacting with your beans.
#6 DON'T STORE YOUR COFFEE IN YOUR HOPPER
Let's face it - coffee beans can look super pretty on display! I'm sure many of us have been tempted to fill our hopper with a full bag of beans. However, most grinder hoppers are not airtight and allow an excessive amount of oxygen to affect your coffee and deteriorate its freshness, so we wouldn't recommend storing your coffee this way.
As
Blue Bottle Coffee point out on their website
, storing coffee in your hopper is also a bad idea if you tend to drink more than one kind of coffee. The oils left from each coffee will inevitably stick to the hopper, mix in the grinder and make it more difficult to dial in your coffee.
WONDERING IF YOU CAN FREEZE YOUR COFFEE?
Find out in our dedicated blog post
here

.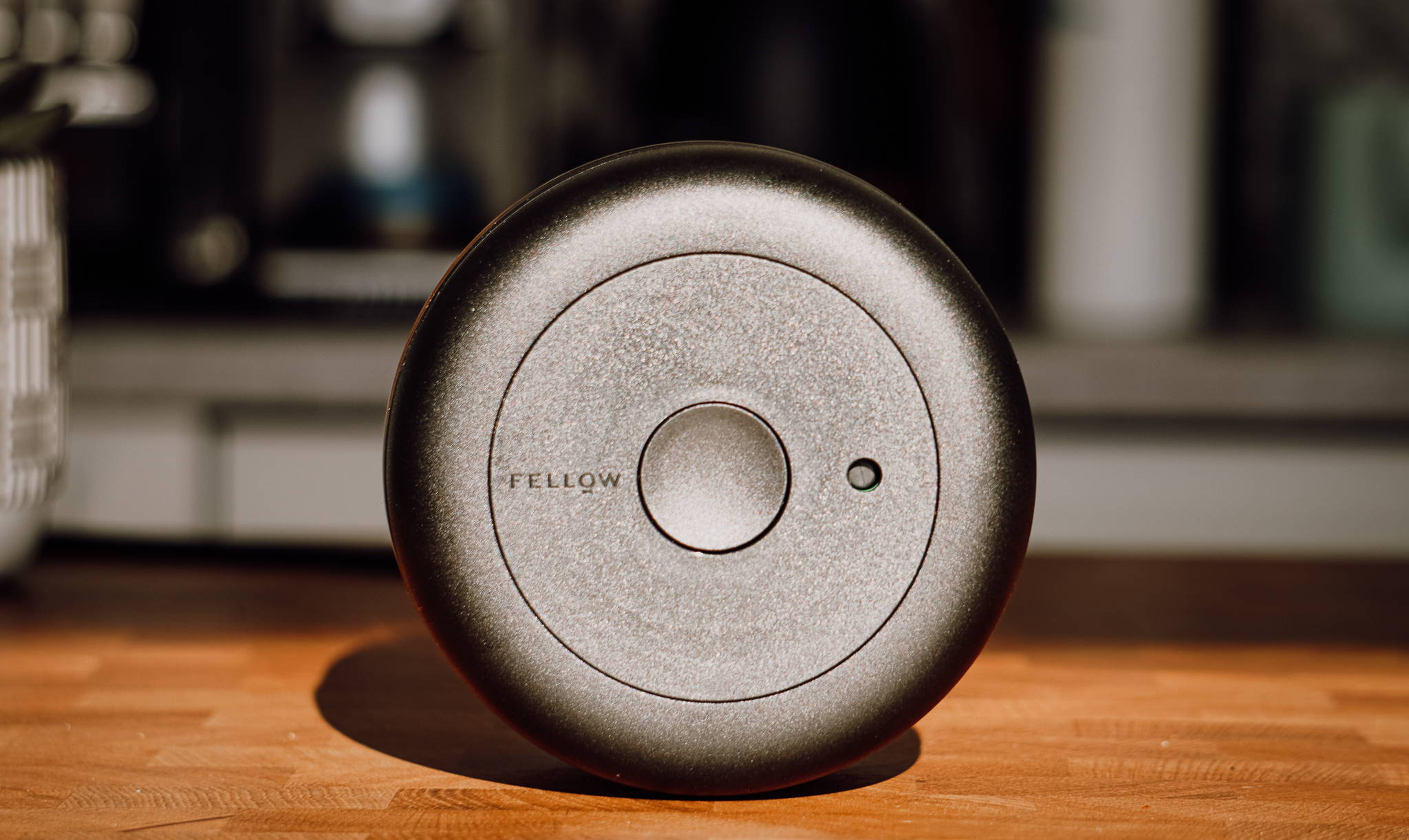 PICTURED: FELLOW ATMOS STORAGE CANISTER
CAN'T I JUST KEEP MY COFFEE IN THE BAG?


Most speciality coffee roasters pack their coffees in airtight resealable bags with pinholes that allow gas to escape the bag & don't allow air inside it. Such bags prevent your coffee from oxidising at a rapid pace, so for the most part, they are a grand way of storing your coffee for several weeks.
However, if you open your bags multiple times a day, you're allowing several opportunities for oxidation to occur on a daily basis, which will cause your coffee to lose its freshness.
And if you're anything like us at Brew Box, you may even have multiple bags of coffee on your shelf which means it can take you several weeks to get through your supply. Sometimes it might even seem like a race against time to consume them at peak freshness!
SO...WHAT'S THE BEST SOLUTION?


We would recommend using a vacuum storage container for your coffee where and when possible. By doing so, you massively reduce the amount of oxygen that comes into contact with your coffee.
However, this isn't a magical 'cure all' to guarantee that your coffee will maintain its freshness. You still need to remember to keep your coffee in a cool, dark area and keep it wholebean if you have access to a grinder!


MY COFFEE HAS GONE STALE, WHAT SHOULD I DO?
Find an old bag of beans at the back of your kitchen cupboard that don't taste quite up to scratch?
While you can't reverse the oxidation process that causes coffee to lose its freshness, there are plenty of uses you can get out of stale coffee beans to avoid wasting them. We've listed some of our favourites below!
#1 Use them when you're adjusting your grinder setting
As a best practice, we always recommend that you only adjust your grind size on automatic grinders when you have coffee running through it. This ensures that you won't damage the burrs or grinding mechanism!
However, when you go from a super coarse grind size to incredibly fine, you will find that the coffee you grind will produce an inconsistent grind, meaning your coffee won't be ideal to brew. The solution? Use stale coffee that you won't miss!
#2 Brew & Bake!
Coffee makes an incredible addition to most baking recipes, especially those featuring chocolate! You can easily brew a cup of coffee and mix it with icing sugar to create a quick, delicious & silky glaze to top a cookie or tray bake…
But I personally find that replacing the quantity of water with freshly brewed coffee in most recipes for gooey dark chocolate brownies adds an incredible depth of flavour. Why not give it a try?!
#3 Cover them in chocolate!
That's right - you can easily melt some chocolate, coat your coffee beans, allow them to fully cool in the fridge and get snacking!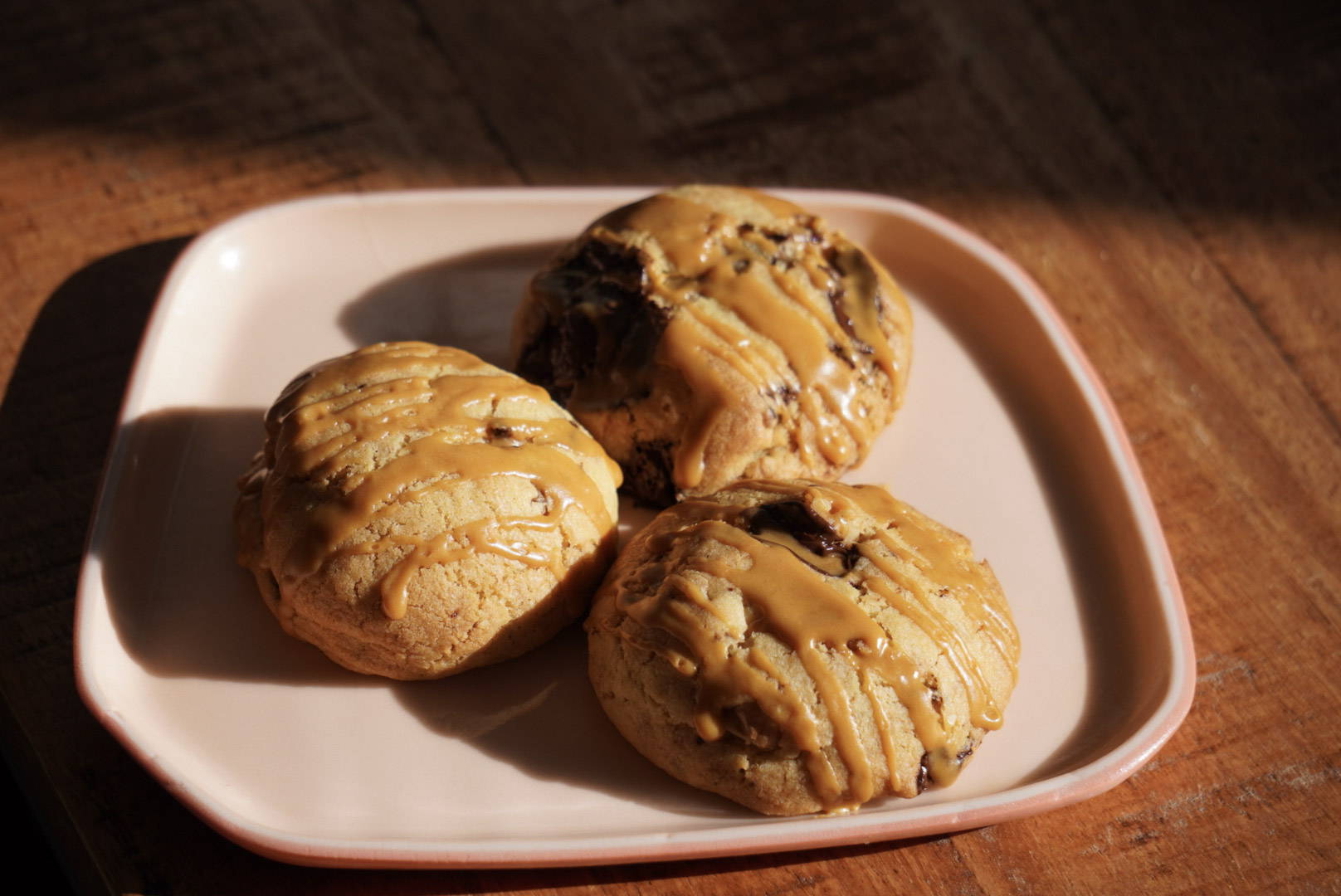 PICTURED: REUSING STALE COFFEE BY MAKING A COFFEE FLAVOURED GLAZE FOR COOKIES