Freezing Coffee - Yes, it's ok and here's why...
For years it's been taboo to consider refrigerating or freezing coffee and with good reason. If not in a controlled manner, you risk fluctuating temperatures, ice crystals forming and contamination of flavours from other foods and oxidation. However, if we can eliminate oxidation and keep the coffee below frozen then we can retain flavour and freshness for weeks, months, even years. 
 Do you ever get frustrated as to why a coffee tastes different one day from the next? I certainly do, as I'm sure many baristas do on a daily basis when aiming to have the coffee performing at its absolute best. I've worked in several cafes with hundreds of different coffees over the years and sometimes you enjoy the chase for the perfect shot, but more often than that you end up feeling like you're under-achieving and as if you're letting the roaster and customer down. One café that I was lucky enough to visit has identified this problem and come up with an ingenious solution. Proud Mary in Portland Oregon has a purpose-built freezer in place with a triple head EK43. Not only does this grinder provide the most consistent grind size out there but this means that they can hold a coffee at its optimum condition. With this system in place and the efforts that have been exhausted to achieve such a high standard of coffee, a pour over would set you back anywhere from $14-$17. Side note - the food here is sensational!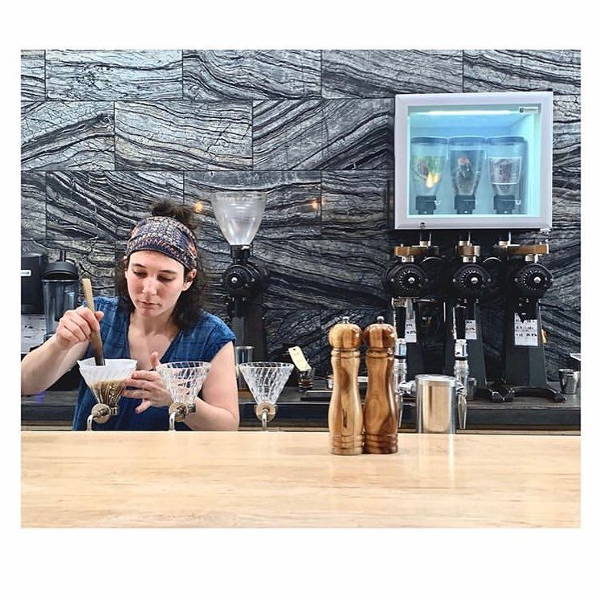 Image from proud mary's facebook
According to a study carried out by some of the heavy-weights in coffee; including Matt Perger, Maxwell Colonna-Dashwood and Stephen Leighton, frozen coffee grinds more evenly than at room temperature or higher. Proud Mary aren't the only café or roastery freezing coffee today. Last year while in Amsterdam I paid a visit to Fuku café owned by Friedhats Coffee. They had a selection of frozen samples of competition and ultra-rare coffees that a customer could purchase for a pour over which they called a "Super Special Coffee". Priced at €7.50 I thought this was fair and easily the best coffee I had tasted on that trip.
So how can we appropriately freeze coffee at home? Well we need to eliminate oxygen and the simplest and most effective way of doing that is with a vacuum sealer. Find a modestly priced one here recommended by Alexander Mills.
Not ready to splurge on a vacuum sealer? That's OK, we have a bit of a hack for you. What you'll need: a zip lock bag and a straw. There's no need really to remove the beans from their original packaging. If the bag has a one-way valve on it already that's perfect, if not, poke a tiny hole in the bag before sealing. Wrap your bag up tight, pop it in the zip-lock, pop the straw in the corner of the bag and seal it over until you reach the straw. Then expel a big breath and prepare to inhale like never before to drain any oxygen left in the bag and seal immediately. This will eliminate almost all of the oxygen in the bag. You could also use a mason jar and fill it to the brim to avoid unnecessary airspace where possible. By repeatedly removing coffee from the freezer and re-introducing air you increase the chances of oxidation and formation of crystals. So it is probably best practice to freeze in portions that you intend to remove all at once. 
 Freezing coffee, both green and roasted, seems to be a very logical and necessary step going forward in sustainably producing coffee. When is it suitable to freeze coffee? Maybe you've bulk bought a few kilos and know that you won't be needing all that coffee over the next couple of weeks, then you could portion this out into 1-2 week amounts and freeze those. If you have fallen in love with a particular coffee or maybe, it's somewhat exclusive and you don't want it to deteriorate then freezing your precious beans is the way to go!  

RAN OUT OF COFFEE ALL READY?
USE YOUR SUBSCRIBER DISCOUNT 'IMASUBSCRIBER'