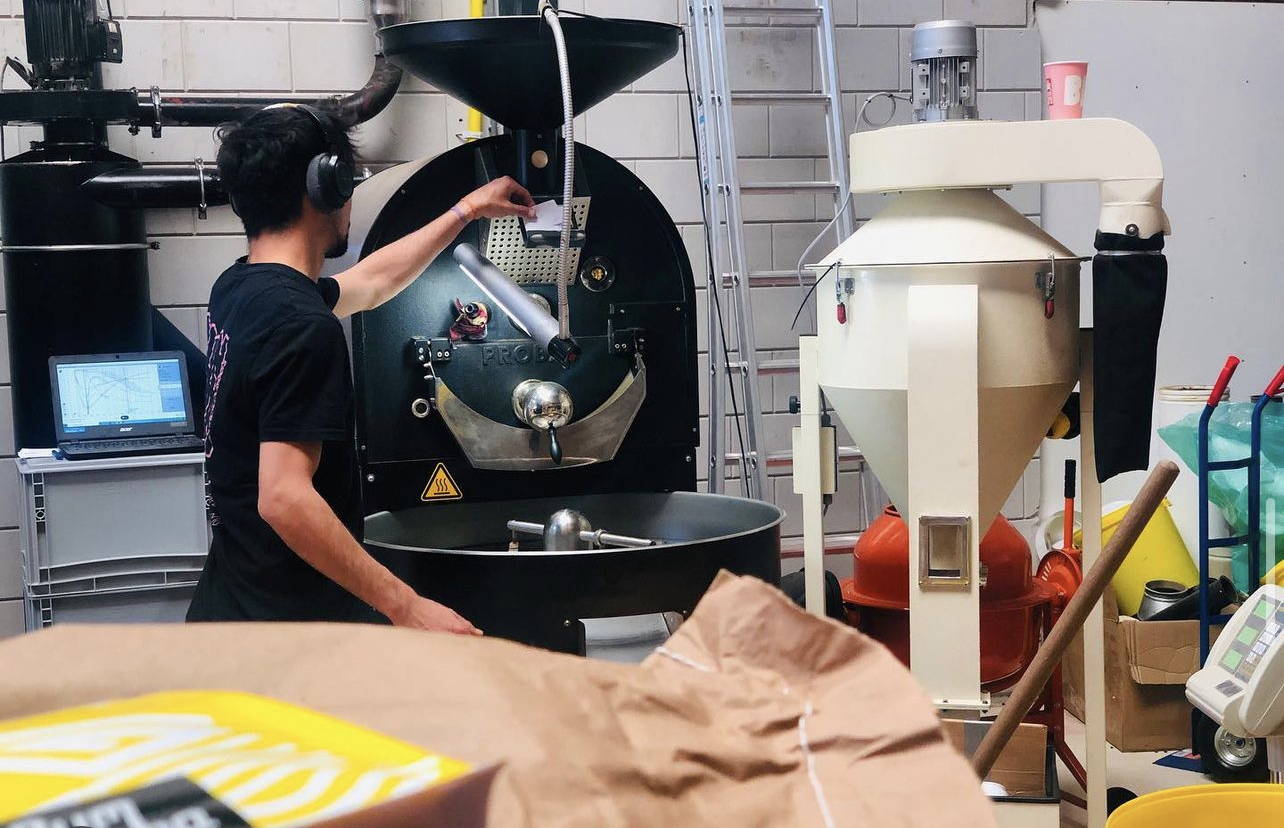 VINHAL TRIPLE FERMENTED PEABERRY
ROASTER:
RUM BABA COFFEE ROASTERS, AMSTERDAM
ORIGIN:
BRAZIL
TASTING NOTES:

Parfumy, Lavender Candy
VARIETAL:

PEABERRY
PRODUCER:
Recanto and Estrela, Vinhalm Family
PROCESS:

3x Fermented fully washed
TELL US ABOUT THE COFFEE & THE FARMER
This coffee produces an intense aromatic cup, almost parfumy!
The cherries (Red Catuai) for this coffee went through a triple phase fermentation. Partly fermented in closed bags after harvest, followed by an open fermentation of the cherries, then after pulping a last fermentation phase (with a thin layer of mucilage still present on the bean) towards drying.
This coffee is an interesting example of coffee from Brazil (Minas-Gerais) not answering the classic idea on coffees from this large coffee growing country
The Vinhal family produces a wide variety of lots from their large farm. What stands out is their specific focus on post-harvest processing. With new experimental approaches with every harvest including different varieties and processing approaches.
WHY DID YOU SOURCE THIS COFFEE?
The experimental joy in their work is a great fit to how we look at coffee at the moment and for which we are known for. A great match.
TELL US ABOUT YOURSELF?
We are an Amsterdam based roastery founded in 2013. Operating with a small dedicated team, the roastery and two local shops/brewbars.
We take great joy in connecting with producers and exporters from diverse origins, and on the other side, connecting with cafe-owners, baristas and home coffee brewers.
WHAT'S YOUR FAVOURITE BREW METHOD?
V60 brew, it provides a level of control over the brewing when aiming for delicacy in the cup. (since this coffee has such an intense profile)
(It does perform well as an americano brewed with your stove/bialetti brewer too)
LET US KNOW HOW YOU'RE BREWING YOUR COFFEE RIGHT NOW!
Slight overdose with a relativly course grind setting.
basic recipe:
20gr of ground
300-320 gram of water
92C
2:25-2:45 min brewing time
Short bloom with 50gr of water, make sure all ground is well wet
Then; interval pours of 75 grams finishing with a last pour up to the desired volume of water.