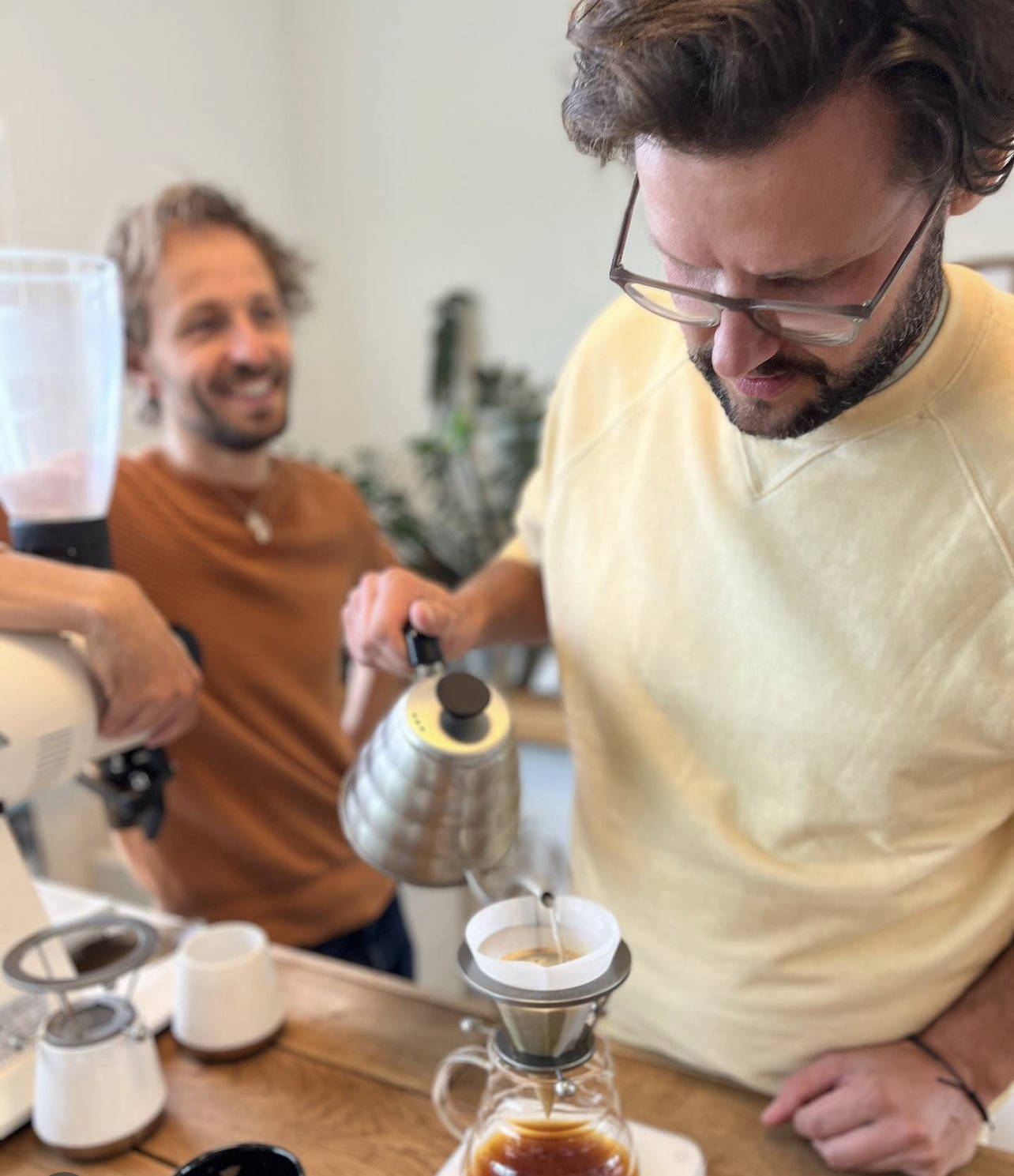 KINGHA
ROASTER:
KEEN COFFEE
ORIGIN:
UGANDA
TASTING NOTES:

Blueberry, dark chocolate, pear, liquor-filled bonbon, black cherry & rum raisin
VARIETAL:

SL-34, SL-18, SL-28
PRODUCER:
500 Smallholders
PROCESS:

NATURAL ANAEROBIC
ALTITUDE:

1,300m – 1,550m
TELL US ABOUT THE COFFEE & THE FARMER
The bean is called Kingha, after the estate where it's grown in Uganda. This coffee is bursting at the seams with flavour. Since we don't have the time to name them all, we'll have to stick to the main flavours, which are blueberry, dark chocolate and pear. Due to the chocolate notes in this cup of Ugandan awesomeness, it kind of reminded us of a liquor-filled bonbon.
WHY DID YOU SOURCE THIS COFFEE?
The Kingha Estate is run by Canadian-born school teacher, Kingsley Griffin. A couple of years back, he went on a gorilla walkabout in the remote and almost impenetrable Bwindi national park of Uganda and he made a life changing decision right there and then: he was going to become a coffee farmer. After some growing pains, Kingha Estate doubles as a washing station for small scale farmers (outgrowers) in the Kanungu District. He wants to improve their income and make sure that they're the first to benefit from their hard work and dedication.
What's extra special about the Kingha Estate, however, is the fact that they have been applying for grants to build a water-powered solution, which is meant to provide electricity to local schools and a church. Thanks Kingsley, you rock!
TELL US ABOUT YOURSELF?
Driven by our curiosity to explore more inspired flavours in a world of stale, over-roasted coffee, Keen Coffee sources the best of the best beans in season — straight from individual farmers who get paid fairly for sharing their treasure with us. We small-batch roast each bean so light and so fresh, you can taste the exact GPS coordinates it came from.
Part travel guide, part mad scientist, we're here to pour you an unexpected adventure in every cup. Our beans aren't the destination, they're your map: an invitation to kick off your own flavour expedition and discover specialty coffee for yourself. Explore, taste, repeat.
WHAT'S YOUR FAVOURITE BREW METHOD?
We love the Saint Anthony Phoenix dripper!
LET US KNOW HOW YOU'RE BREWING YOUR COFFEE RIGHT NOW!
We use 6 grams per 100 ml of water
Example: 15g coffee / 250g water
Water temperature about 93°C.
Bloom with 30 ml for 30 seconds and second pour to 110 ml and again to 180 ml and then up to 250 ml. With every pour wait around 30 seconds.
Total brew time is about 2:45 minutes. Adjust grind finer if the brew is too fast, adjust grind coarser if the brew is too slow.