What is the industry doing to cope with Covid-19 restrictions?
What is the new norm? Based on government advice and current examples in cafes and restaurants the way we visit these establishments will be changed for the foreseeable future, if not forever. We live in a fast-paced world, where if a barista holds you up in your busy day, you're likely to not return to that café or avoid that barista. At present cafes are operating in fewer numbers and with limited menus in an attempt to serve the public in the safest manner possible. So longer wait times, and no congregating outside shops. That's fine when the majority of the public are working from home but what happens when businesses start reopening and people begin returning to their workplaces? Will shift work be the new norm to avoid a total wipe-out of staff?
Sadly, it is inevitable that a lot of smaller businesses will not survive this. But today we'd like to showcase some examples of how businesses are adapting and surviving in this pandemic. Please show your support to them in the coming weeks.
If you haven't been yet, Hatch is a gorgeous little neighbourhood cafe tucked away in glasthule village. We asked Mealla Tarrant one of three sisters who own Hatch about how they've adapted.
What is the new norm for Hatch and how have you adapted your business model?
"The new norm for Hatch is going back to our roots and actually trading AS A HATCH! Luckily our position in Glasthule village is at a point where we have a very wide path in front of our premises , and we're almost at the end of terrace so we can use the corner to guide people in the queue safely away from pedestrians while they wait to be served. We won't be allowing customers in for the foreseeable purely because we are a tiny space and it wouldn't be comfortable for staff or customers! We have segregated staff by essentially creating a hatch within a hatch at the coffee machine, the barista has a designated spot to drop the coffees for the server to finish with lids/sugar etc. Our staff segregation is very important to us as we are all in different units. This is our new norm and we're super happy with the set up, and very fortunate with our location to allow safe queuing in a nice environment, so if there is a wait, people have nice scenery to enjoy while they queue."
What are your thoughts on how this will affect the hospitality industry as a whole?
"This is the new normal for the hospitality industry where cafes are concerned, and consumers have been adapting brilliantly to social distancing and waiting a little longer for their products as they are confident it's in their interest to do so!"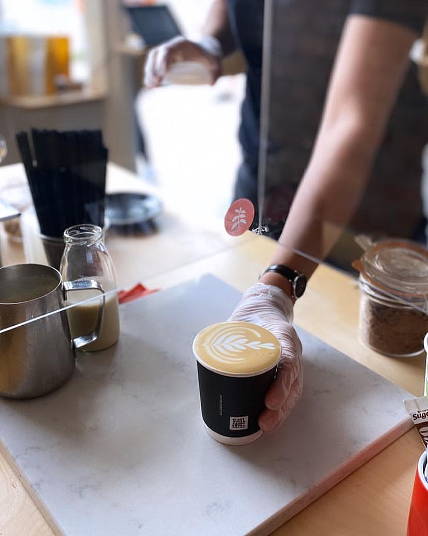 Hatch coffee, Glasthule, Dublin
The Fat Fox, an epic business set up by co-founders Claire Cullen and Rob 'Bobby' Hallinan, both partners in life and business. Over the years they have suffered the most struggles I know of with having to move locations, opening a new shop and starting another in the midst of all this. Through no fear of hard work, they have kept their business going through online sales and their incredible merch collection. Check them out www.thefatfox.ie.
We asked Clare how she was getting on with the business right now and how they were preparing for the uncertain future.
"For us there are two different situations.
One the drive thru it self was pretty ideal to adapt we only have to make minor changes for it to work. Thankfully no one comes into the building so we build two Perspex screens and a slinging drawer (for cars) so we didn't have to reach out to the customers and we had a safe distance. However during busy times we would usually pull a car up and run the coffees out there. It has now changed and if there isn't room to pull people up they just have to keep on going! It was trusting at the start but it just the way it has to be."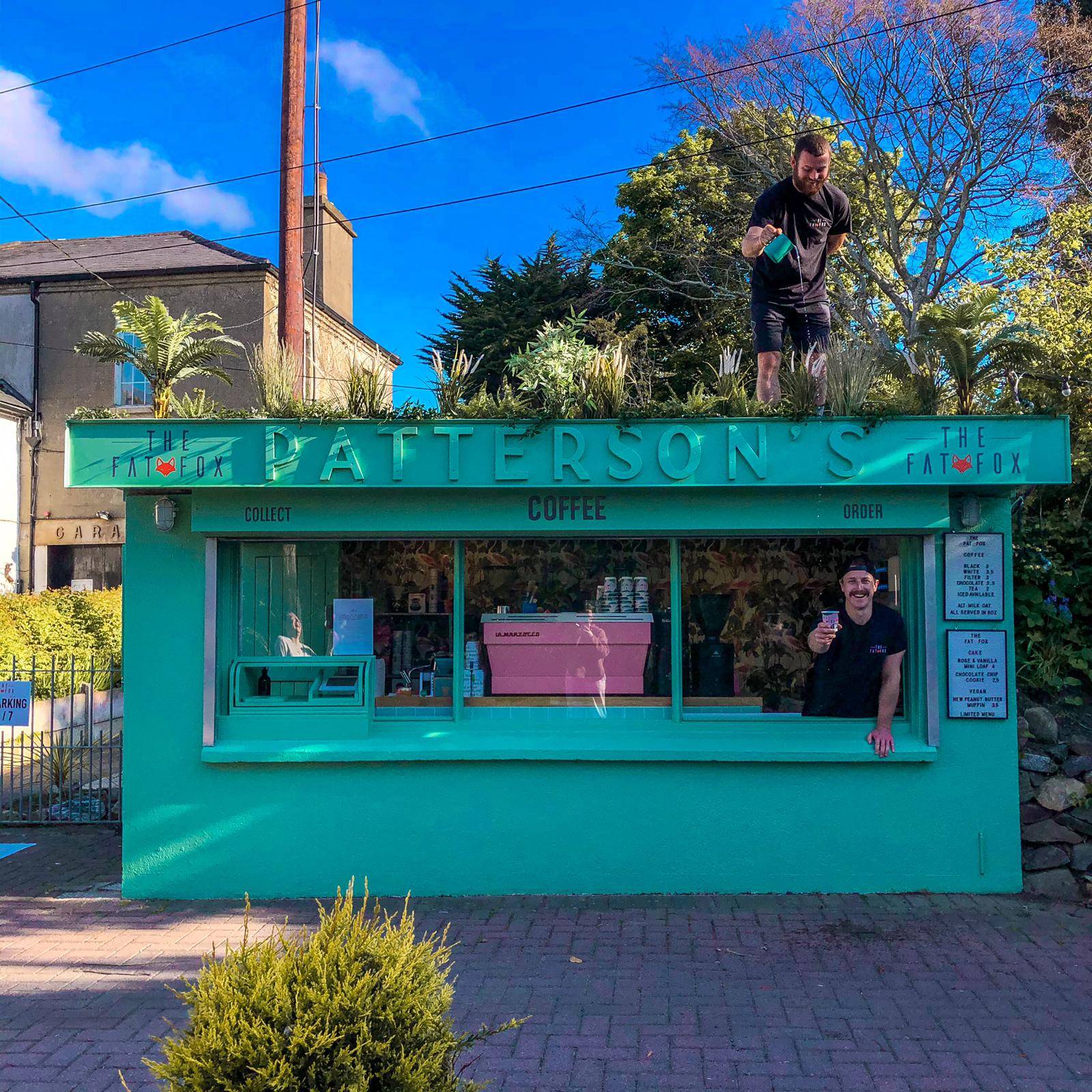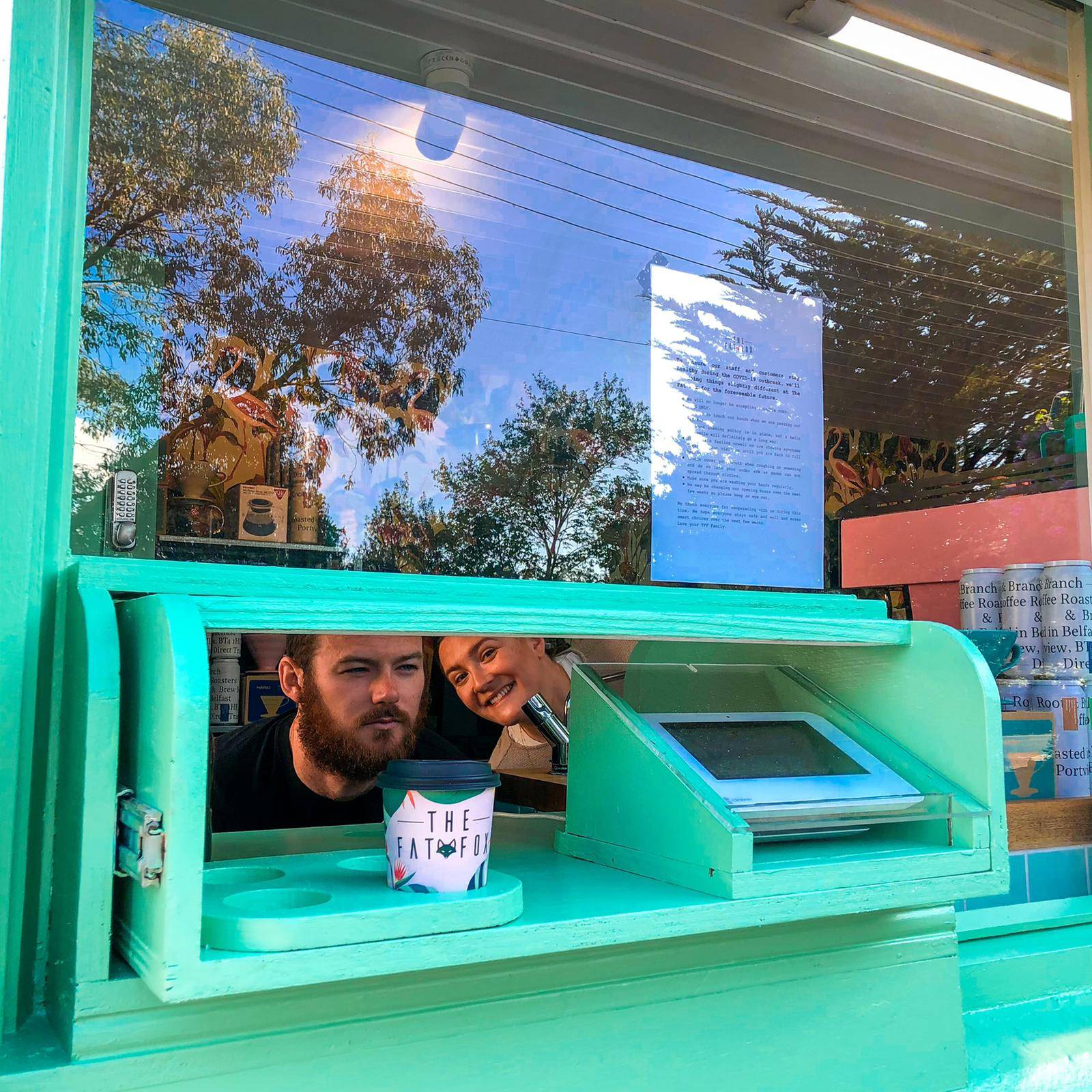 The Fat Fox Drive Thru, Delgany
"Saying that we signed the lease to a new location 3 months back which is a fully seated cafe. This is now going to be a massive challenge but it isn't the largest space inside for social distancing between tables and for it to be viable to we are looking at the business model and how we can adapt it to suit regulations and things going forward.Our industry thrives on customer interaction and what you have worked on for year to build relationships has just been taken away over night. When your serving someone through a screen it's just not the same the humour and craic just doesn't come across the same and it's so disappointing to lose that, but for us we have been closed once before and now for a second time we have started to build our business up again adapting to something new and changing our model. We are ready for what the future holds ✌🏻"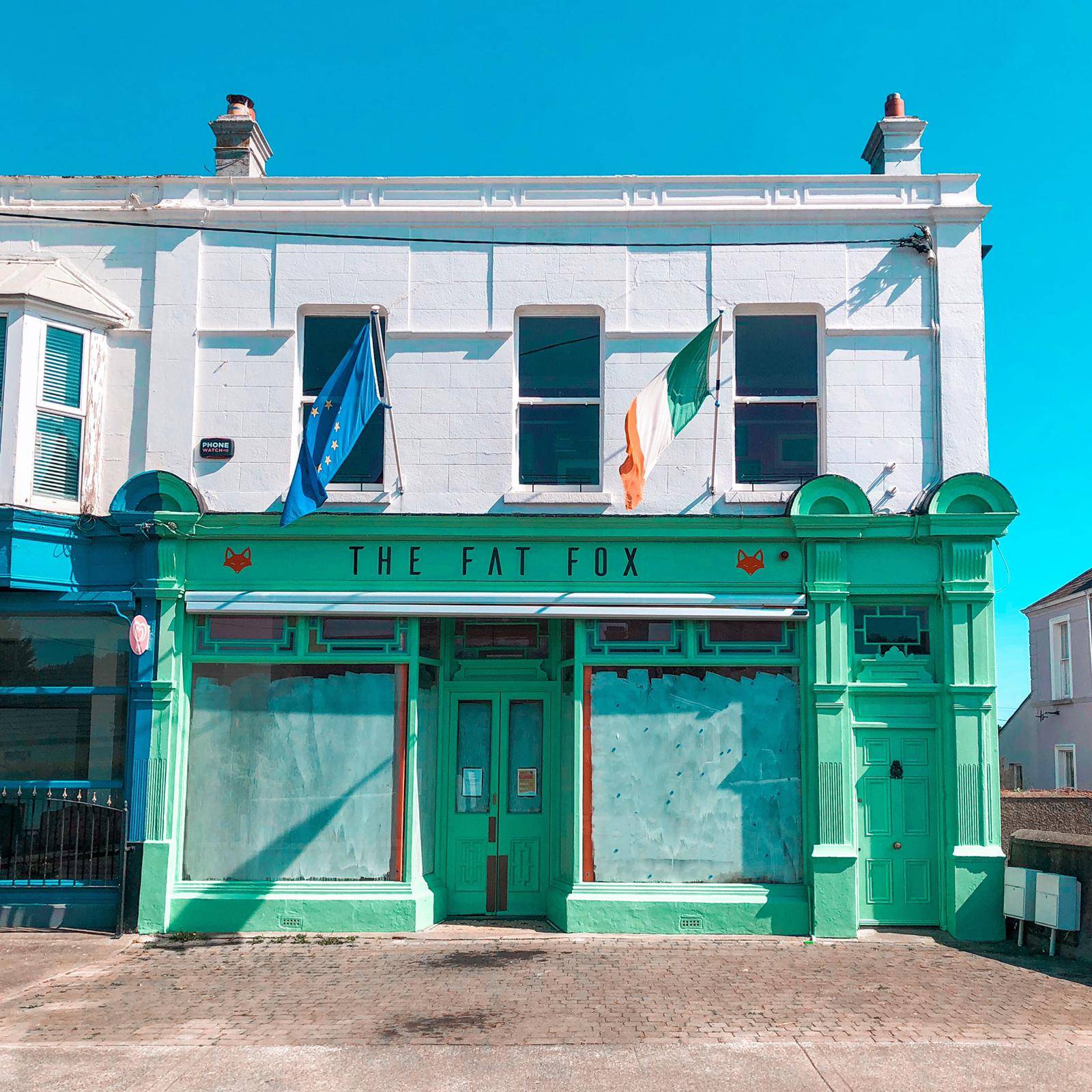 The Fat Fox Shop Concept #3, Greystones, open date TBC.
If you're a northsider or ventured to the northside for a lovely Sunday stroll along the Bull Wall or Dollymount strand, you will know Happy Out well. Brian Hanratty co-founded the concept back 2017 with his business partner, a shipping container take away coffee and toasty shop on the beach.
What is the new norm for Happy Out and how have you adapted your business model?
"In terms of evolution, the industry had to adapt but I acknowledge it is harder for some than it is for others. We have to be mindful of staff availability at the moment (more so than usual!) and as we work in a container, space is tight so only so many can work at one time with social distancing.In terms of our food offering, we can't have people waiting (gathering!) around for toasties. So we had to figure out how to work around those issues. We have moved to cold, prepacked Sambos which has been well received. Our coffee set up is fine and luckily is running as normal. But again, limited staff means slightly less capacity!Our business model has only had to have a few tweaks, as we are both a cafe and a takeaway spot. We just have to organise ourselves differently, so we are prepared in the morning for the day ahead and don't need to have extra staff during our peak hours.I think our business model will go back to normal. However, we have had a bit of time to look at it, so there may be a few changes as a result - as I'm sure is the case with a lot of places. Sure, the prepacked sandwiches might actually be quite handy once things go back to normal!"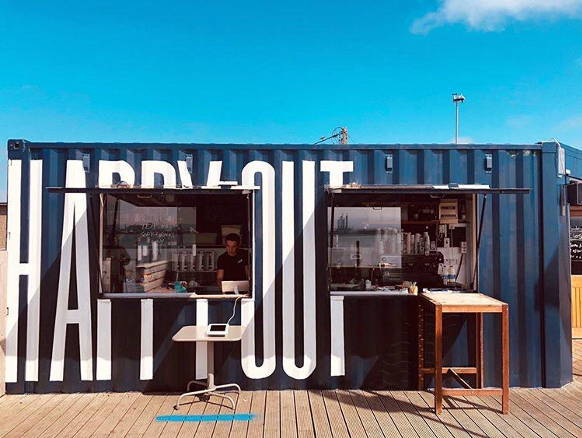 What are your thoughts on how this will affect the hospitality industry as a whole?
"This will be a big blow for the industry and not everyone is as lucky as us to be able to adapt so quickly. Some will have to completely rethink their offering, which isn't an easy job when you work so hard to build something. Hopefully the "support local" campaign will help everybody in the business. It has really shone through for us and people have been great about wanting to support us and other local cafes, restaurants and butchers etc. There has been a great sense of community through all of this, which will stand to us and I'm sure it will for others in a more difficult situation."

Thanks Brian!
An example of a business who has totally changed their business model is BuJo in Sandymount. The beloved village burger joint immediately changed their operations to make it as a safe as possible for both staff and customers. Michael, one of the BuJo owners, stressed that their number one priority is their staff – "if our team becomes sick, it all falls apart". As soon as the pandemic hit, they started using a phone that was mounted on the front door on a permanent WhatsApp call to allow customers to place orders without stepping foot in the shop. They quickly worked on a home kit which was a huge success and sells out weekly. They are planning to reopen next week to the general public on a click and collect service for the evening time using a limited menu.

You might think why are we talking about burgers? This is a coffee subscription service. Well, with huge input from the culinary director, Grainne O'Keefe, they have been working on a daytime offering. Michael goes on to say, "The people of Sandymount have been unbelievably supportive of us, it's time for us to give back, and we feel strongly that this is what the village wants and needs". Included in the daytime offering will be a full coffee menu serving Cloud Picker coffee to the highest standards possible.Any new businesses opening will presumably need to be extremely cautious when selecting their premises and consider the space and flow to ensure they can operate in a safe way. The government has announced that cafes/restaurants can reopen on June 29th, likely for a limited sit-in option. It's fantastic to see both the adaptation of businesses in the pandemic, and the support from customers, long may it live!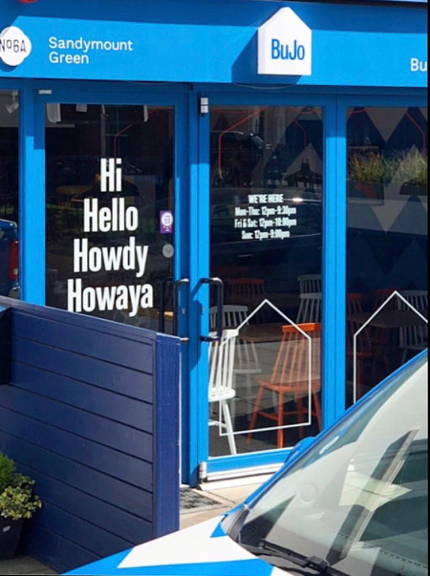 If there is any way that we can help promote your business in these Covid related times get in touch! Info@brewbox-coffee.com.
Article written by Mike Shanahan